AN INTRODUCTION TO TECHNICAL DIVING CD-ROM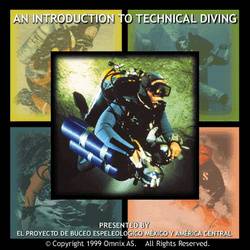 An Introduction to Technical Diving introduces the realm of technical diving through the experiences of the expeditionary team El Proyecto de Buceo Espeleologico México y América Central, led by world record holders Jim Bowden and Dr. Ann Kristovich.
"An Introduction to Technical Diving is a praiseworthy overview of this challenging and sometimes intricate form of diving. Whether you're doing research in an underground cave system or working with a salvage crew on a sunken ship, this CD-ROM will help you do it better and safer."
- The Islander [September 2, 1999]

"A planning tool packed with invaluable information, An Introduction to Technical Diving is a useful and visually compelling reference work that deserves a place in every diver's library."
- Australian Scuba Diver Magazine [July/August 1999 issue]

"The mysterious world of technical diving unfolds through this beautifully illustrated CD-ROM."
- GreatOutdoors.com [June 1999]

"The CD ... comes into its own with a wonderful photo gallery. Looking through this you will never need to ponder why anyone would want to go cave diving again."
- Dive Girl [Summer 1999 issue]

"An Introduction to Technical Diving is one of the most comprehensive compilations to date. Smartly written and beautifully illustrated, the CD captures the ethereal spirit of exploration ..."
- Scuba Times [January/February 1999 issue]

"... it will answer essentially everything about technical diving you've wanted to know ..."
- Sport Diver Magazine [January 1999 issue]

Also featured in Advanced Diver, DeepTech, and Immersed magazines.


This CD-ROM defines, elucidates, and pictorially portrays the various types of technical diving, as well as the equipment and skills needed to safely participate and/or pursue certification. Although it is not intended to be a substitute for formal training, An Introduction to Technical Diving provides comprehensive detailed information in a beautifully illustrated format and can be used as either a reference source or an educational aid for divers of all training levels.
Section 1: An Introduction to Technical Diving

Definition of Technical Diving
Technical Diving Pioneers
Equipment and Tools for the Technical Diver

Exposure Suits [wet suits, dry suits, etc.]
Fundamental Scuba Equipment [BCDs, masks, etc.]
Instruments [SPGs, dive computers, compasses, etc.]
Breathing Mixtures [air, nitrox, mixed gas, and oxygen]
Safety Scuba Equipment [marker buoys, mirrors, etc.]
Specialized Scuba Equipment [lights, reels, etc.]
Surface Support Equipment [compressors, repair kit, etc.]

Types of Technical Diving

Cave Diving
Decompression Diving
Deep Diving
Diver Propulsion Vehicle [DPV] and Scooter Diving
Dry Suit Diving
Ice Diving
Mixed Gas Diving
Overhead Environment Diving
Rebreather Diving
Sidemount Diving
Solo Diving
Sump Diving
Wreck Diving

Physics for Technical Diving
Medical Risks Associated with Technical Diving

Decompression Illness [DCI]
Deep Water Blackout
High Pressure Nervous Syndrome [HPNS]
Hypothermia
Inert Gas Narcosis
Oxygen Toxicity

Knowledge and Skills for the Technical Diver
Technical Diving Instruction and Organizations
References


Section 2: An Introduction to the Proyecto

Purpose and History of the Proyecto
Proyecto Leaders and Team Members
Proyecto Expedition Sites


Section 3: Slide Show